The Lumber Shack: A Family Owned Live Edge Wood Supplier
Live Edge Coffee Tables:
Get Wood Slabs For Coffee Tables
Live Edge Coffee Table Slabs
Shop Coffee Tables
16" - 30" Wide by Length
If you have a specific width you're searching for, you can adjust the width filter to your target range or chat in to one of our wood experts and they can send over tailored options!
Tree Slices: Rounds & Ovals
Shop 16" to 30" Wide Coffee Tables By Length
Browse our virtual showroom and select the perfect wood slab for your live edge coffee table project. We strive to maintain the largest online inventory of high quality wood slabs in a variety of sizes and species so you can find exactly what you're needing. To start your search: select your desired length below and adjust the width filter on the collection page to your target range, or chat in to one of our wood experts and they will send over options tailored to your needs!
Tree Slices: Rounds & Ovals
Add epoxy to your coffee table design for an extra pop of color or to highlight your slabs natural characteristics.
Looking to use epoxy or resin to fill you live edge coffee table? Our online inventory of coffee table wood slabs has pieces that perfectly match your vision. On our website, you'll find a large inventory of wood slabs with voids, splits, and other natural characteristics perfect for an epoxy project. Our online filters allows you to browse sizes, species, and more to guide you to slabs that meet your project needs.

Looking for a larger epoxy project? We offer live edge river table slabs and have a variety of larger wood slabs with Large Voids & Inclusions. You'll find detailed information on each piece in our descriptive product listings, and the slab you receive is the exact slab you see in the listing.

Looking for the final piece of your table project? Check out our options for metal and wood table bases.

Shop Epoxy Project Coffee Table Slabs
More About Live Edge Table Tops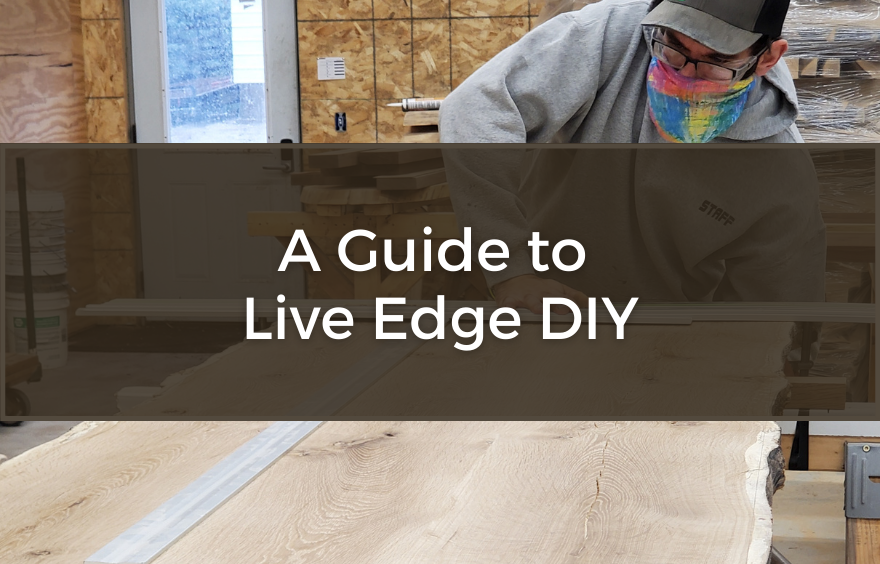 Apr 05, 2023
A Guide to Live Edge DIY
Read More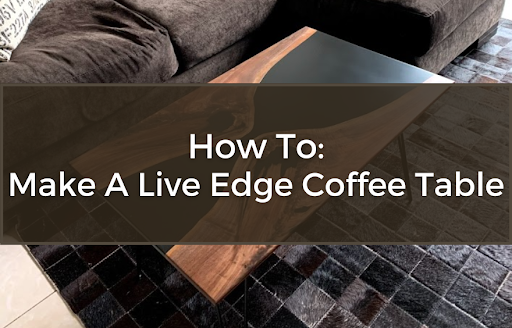 Jan 11, 2023
How To: Make a Live Edge Coffee Table | The Lumber Shack
Read More
Exceeding Customer Expectations
We provide the most client friendly virtual shopping experience along with a beautiful array of solid wood table top options for your residential or commercial project. The Lumber Shack is based in Iowa and has been shipping our Iowa harvested Live Edge Wood Products nationwide for over 13 years. We strive to get you what you ordered, exactly how you ordered it, every time.
Find completed live edge coffee tables or raw wood slabs
Whether you're seeking raw live edge wood slabs or fully-finished items, we've got you covered. Our slabs are available to be purchased as-is for your DIY projects or you can choose one of our custom finishing options to let us handle some, or all, of the work. Whether it's a customized table, bar-top, mantel piece, vanity, or a live edge coffee table, our experienced finishing team is ready to add those finishing touches for you. Best of all, our services are cost-effective, ensuring you get high quality results without breaking the bank.
Learn More About Finishing Options
Get inspired for live edge coffee tables
Are you looking for inspiration before starting your live edge coffee table project? The Lumber Shack Shop and our talented customers have completed many projects with our quality wood slabs! Enjoy examples of these completed projects and allow them to inspire your live edge coffee table project. We can't wait to help you dream become a reality!

Find inspiration and want to find something similar? Send the picture to our team of wood experts and let us find you options tailored to your project!
Live Edge Coffee Table Inspiration
Buy Live Edge Coffee Tables
Caring for your live edge coffee table
We are here to help your project become a success! This means understanding how to care for your wood slab furniture. Read our guide to ensure your piece stays a remarkably eye-catching part of your home for a long time to come.
View Wood Care Information
Let us support your creativity with tips, inspiration, and affordable live edge wood slabs.
We can't wait to see the live edge coffee table and other live edge wood projects you create! We are here to support and guide you through every step of your project, from planning to completion, and have a variety of resources right at your finger tips. Find tips on our blogs and resource pages, contact our wood experts for help searching or questions on our live edge slabs, and find great deals for your home's next statement piece, all on thelumbershack.com!